Description
RADAN Software
RADAN® is GSSI's state-of-the-art post-processing software. With its modular design, this program allows users to select the processing functions that best suit their professional needs. RADAN is Windows™ based, providing a familiar and easy-to-use environment for all levels of experience.
3D Module:
The 3D module provides enhanced 3D viewing options ins a single dialog box. Users can stretch, shrink or zoom in on files as desired for customised presentations results. the 3D module also allows the entire data cube to be " sliced and diced" along various x, y and z planes. This allows the user to easily interpret complex areas and to make sense of the data. With this module's simple, intuitive click-and-drag interface, viewing multiple slices and rotating the data for better view has never been easier.
The 3D module also shows multiple interactive views of 2D and 3D data simultaneously and to create shapes (pipes, drums, lines etc) in the GPR data, which can then be exported for integration with CAD drawings. This way, the data can be presented to the Client in familiar, easy to understand format. These 3D options provide users with unparalleled data interpretation and presentation capabilities.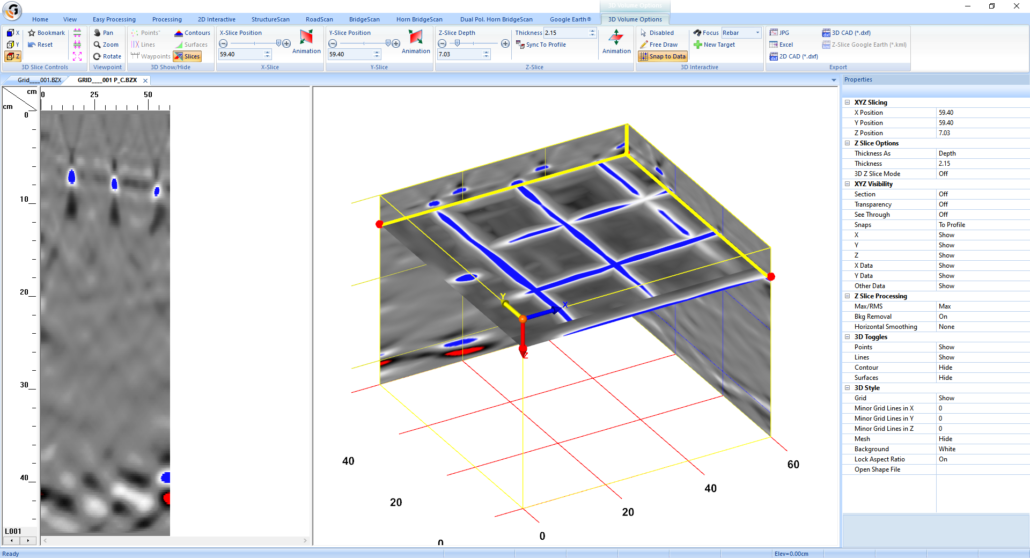 BridgeScan Module: Map Bridge Deck Deterioration
The BridgeScan Module for RADAN 7 allows users to;
Identify rebar, calculate concrete cover over rebar on new deck structures, and perform deterioration mapping. This module incorporates GSSI's patented data analysis method designed for post-processing and analysis that is streamlined specifically for bridge deck data. The BridgeScan Module is ideal fro large bridge deck structures with typical two-layer orthogonal grid reinforcement patterns.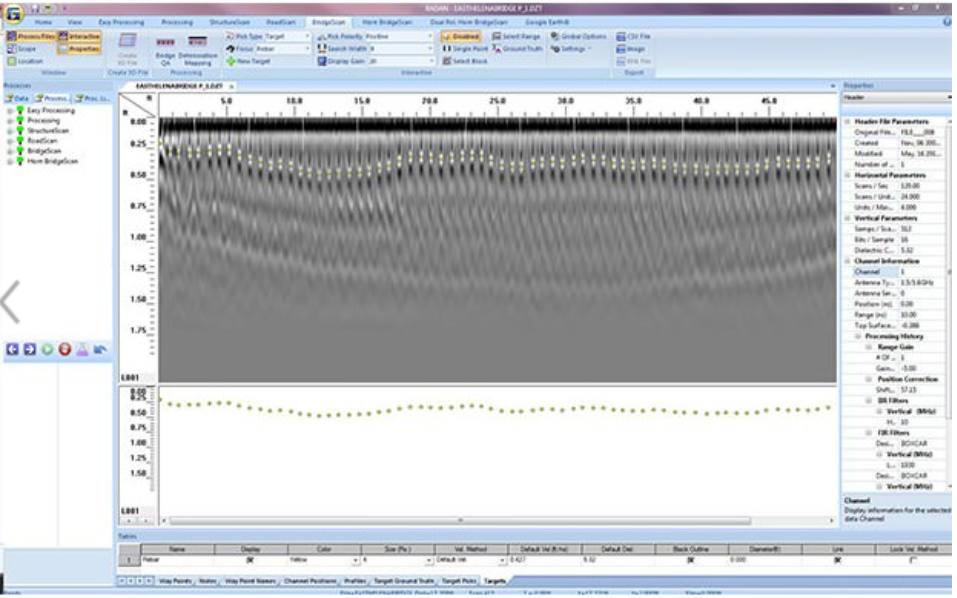 RoadScan Module: Conduct Pavement Layer Analysis
The RoadScan Module for RADAN 7 is designed for use with horn (air-launched) antennas. This module uses a signal calibration technique that measures significant layer interpretation amplitudes from the pavement data and calculates the propagation velocity of he GPR signal through the pavement layer. This allows pavement thickness, base thickness and other pavement structure properties to be calculated without the need for ground-truth (core) data.
This Software module includes automatic and interactive layer interpretation, automatic and interactive pavement thickness and provides output of signal and position information to an ASCII database for roadway condition and assessment.